All our dentists adhere to the strict guidelines governing the profession under strict guidance from the General Dental Council (GDC) "Standards for Dental Professionals".
Our Patient Care Coordinators
Sylvie Kaszowski
Practice Manager & Implant Treatment Coordinator
Diploma in Applied Health Sciences & Dental Practice Management Toronto 2005.
Sylvie Kaszowski began working in the Dental industry in 2008. Originally from Toronto Canada, she fell in love with the Dental Office Coordination Role initially by observing the front staff while waiting for her own dental appointment. She obtained her Dental Coordination Diploma in Toronto Canada and began working in a very prestigious Toronto Dental Clinic as a Dental Office Coordinator. Having excelled in the role quite quickly, she was offered a Practice Management position at another Practice. With a 17-year Customer Service experience, in the Dental, and Spa Industry, Sylvie believes the combination of her passion for the Management role, constant hunger for dentistry knowledge, compassion for Patients, and bubbly personality, allows her to smoothly manage, and operate both Referral Centres. In her spare time, Sylvie is launching her marketing agency. Sylvie and her husband Pawel contribute their spare time to the Save the Children Foundation. She loves travelling with her husband and her Birman cat Veya. Sylvie also enjoys painting, interior decorating, and furniture restoration.
Our Treatment Coordinators
If you are a dentist and would like to refer to us, please click here to our sister site to complete our referral form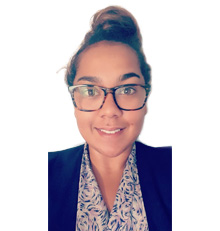 Lauren Allen
Dental Treatment Coordinator at Glenholme Dental Centre
Diploma in NEBDN Basingstoke 2012
GDC: 248181
Lauren began her career in dentistry in 2010 as a Trainee Dental Nurse. After passing her probation she then enrolled on the National Diploma Course in 2011 which she successfully passed in 2012 and became a Qualified Dental Nurse.
Always working within a customer based role, Lauren has found her passion in life which is to help people. "Dentistry can be a difficult experience for some people causing confusion and anxiety, I thrive in helping patients understand procedures, overcoming any worries and progressing forward together in their journey".
In Lauren's spare time she enjoys socialising with her family and friends, snuggling up on the sofa while watching the latest motion picture and visiting beautiful destinations around the world on holiday.
Suzi Lehocki
Dental Treatment Coordinator at Wordsworth House Dental Centre
Diploma in International Academy of Design and Technology Tampa FL 2007
Zsuzsanna, graduated from the International Academy of Design and Technology in Tampa, Florida, United States. She majored in Fashion Design while concentrating on footwear design. Having worked in a fast-paced fashion industry for several years, she gained experience in both fashion and customer care, ensuring each customer's happiness when receiving their newly designed product.
After getting married, she decided to reside in the United Kingdom and pursue her career within a dental environment. Zsuzsanna is truly passionate about her new role and patient interaction, all while working with the dental team. You will instantly notice her warm and welcoming manner and you really don't want to miss out on her making you an excellent cup of tea.
Zsuzsanna, as a new Romsey resident, loves exploring the beautiful surroundings and historic sites in town with her husband.
Dental Nurses
Dominika Dixey
Dental Nurse Manager
Dominika started her journey in dentistry in December 2014 as a trainee dental nurse, and is currently enrolled for the National Diploma in Dental Nursing. She has built her knowledge, and experience by working alongside specialists, and general dentists. On September 2016 Dominika was promoted to a Dental Nurse Manager position, due to her great approach with patients, and passion for dental treatments. Her favourite treatment is dental implants. Dominika is also fluent in Hungarian. Outside of work, she enjoys travelling, hiking, and being outdoors. They say if you love what you do you'll never work a day in your life, she feels that being a dental nurse manager is exactly like that.
Criselda David
Trainee Dental Nurse

Criselda has been a Dental Nurse since 2013. She has worked in Dental Practises in the Salisbury and Newbury are, she worked with Specialists such as Maxillofacial Oral Surgeons and Periodontists. In the future, she would like to be a Specialist Nurse. She was born in the Philippines, enjoys food, travelling, and singing.