At our comfortable and contemporary practice in Hampshire, dental implants provide a long-term improvement for a variety of tooth loss situations. We provide replacement teeth that look good, feel natural, and maintain their integrity for decades. Whether you've lost a single tooth by accident, or a whole set of teeth from various long-term conditions, Dental Implants Hampshire will restore your natural dental function.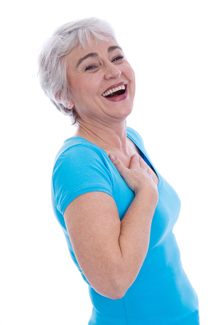 The multiple advantages of dental implants in Hampshire
When the gaps in your smile are replaced by natural-looking teeth, you might feel a boost in your overall confidence. And the new teeth will reduce the risk of tooth decay and gum disease, because there'll be fewer awkward spaces in your mouth in which food particles and bacteria can hide. As well as this, the implants will maintain the underlying firmness of your face's bone structure, preventing the sunken look that can develop when removable dentures are worn for a long time. The natural feel of the implants can even mean that some words and phrases are easier to pronounce than they would be with removable dentures.
Personalised treatment
The first stage of treatment is a consultation with our team. We'll talk to you about your dental history, and explain the available options, including the technical and financial details. We'll also make sure your oral health is at a good enough standard to receive the implants.
After this, you'll return to the practice to undergo the surgical part of your dental implants in Hampshire, during which the dentist will place small titanium posts into your jawbone, usually under local anaesthetic. After a period of healing, the dentist will attach your replacement teeth to the tops of the titanium posts.
The bone will form a strong bond with the implants in a process known as osseointegration. This means the replacement teeth have a secure base, and you can enjoy biting and chewing your food as you used to do with your natural teeth.
As long as you look after them properly, the implants will last for many years. You could carry on enjoying the improved function and reduced oral health risks for the rest of your life.