At Dental Implants Hampshire, many of our patients who wear dentures tell us how positive using dental implants for denture stabilisation has been for their lives. They have stopped their dentures from moving around and feeling loose when they are chewing, speaking, smiling and even kissing! In short, dental implants in Hampshire have given them their confidence back to face everyday life with a smile.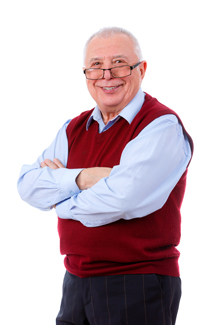 Denture adhesives do help hold upper dentures in place a little better but don't do much for a lower denture that is loose. Studies show that less than 15% of people who have a lower denture wear it or use it to eat with because they find it so uncomfortable. If any of this sounds familiar then denture stabilisation at our practice may be just what you are looking for.
How does it work?
If you have dentures that make chewing difficult or move around when you eat or smile we can help. It is entirely possible to use between 2 and 6 dental implants to stabilise your denture, making it firm, durable and more comfortable to use. This means your won't need to deal with the discomfort of loose dentures rubbing up against the inside of your mouth.
Stabilisation of a problem denture with dental implants in Hampshire is best suited to full upper or lower dentures. However modern advances in dental techniques will also allow us to look at improving partial dentures too.
Can I afford denture stabilisation?
Dental Implants Hampshire is delighted to offer a range of flexible payment options for our dental implants in Hampshire, making our services even more affordable. In arrangement with Chrysalis finance, our patients can obtain finance for their dental implants in Hampshire and pay for their potentially life-changing procedures on a month by month basis.
Perhaps the most appealing aspect of our finance options is the fact that it can be interest free, when spread over 12 months. Prospective patients can choose a repayment period from 12 months to 5 years for a truly varied choice for your repayment needs. Hopefully these factors mean your new dental implants in Hampshire are now within reach. Give us a call today to start your journey with Dental Implants Hampshire.