People who have lost most or all of their natural teeth find it difficult to get used to dentures. In the long run, dentures tend to become loose and unstable, because the jawbone is gradually deteriorating. This can create many problems with eating and speaking, leading to sore spots in the mouth as well as further tooth loss.
At Dental Implants Hampshire, we understand that ill-fitting dentures can cause many problems and that's why we provide stabilisation of your denture with dental implants in Hampshire. The mini dental implants we use for this process provide a viable and cost-effective solution for patients who'd like a permanent solution to tooth loss.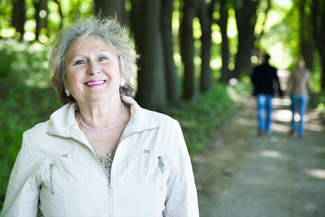 What are mini dental implants?
Mini dental implants are shorter and narrower than regular dental implants but are still made of titanium. The head of the implant is shaped like a ball, instead of a screw, fitting into a socket-like attachment in the base of your denture. This way the denture snaps into position and is held securely in place. Typically, just four mini dental implants are used to stabilise a denture, although this can vary from patient to patient.
What is the procedure?
Your dentist will fit mini dental implants in the same way they would fit regular dental implants. First, they will determine your suitability and the amount of bone available in the jaw. This will enable them to create a treatment plan and design your dental implants with precision. One of the benefits of having mini implants instead of regular ones, is that less bone is required to hold them in place. This is because they are fixed at an angle into the jawbone. This procedure is quite simple, as the dental implants are simply screwed in position and there is no need to open up the gums and have stiches. Furthermore, mini dental implants can often be immediately 'loaded', which means that you can have your denture stabilised in only one day.
To learn more about denture stabilisation with dental implants in Hampshire or simply book an appointment with one of our dentists, please contact us today.