Eating well is not only one of life's fundamental pleasures, it is also vitally important for good health. It is only when you have lost your ability to chew that you find out how important teeth are. Thankfully, we are living in the 21st century, when, for the first time ever, you can get your full chewing ability back after you have lost your teeth, with dental implants in Hampshire.
Denture downsides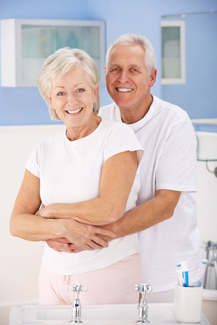 Anyone who has ever had dentures will tell you how frustrating eating can become. Dentures have come a long, long way in terms of aesthetics, but nothing can alter the fact that dentures can only give you back about a quarter of your original chewing power, and not much actual bite at all. In fact, when you get dentures, you also get a long list of foods to avoid, and advice to cut up your food before you eat. That's because dentures rely on suction with the gums below them to hold them in place. In Hampshire, dental implants rely on artificial tooth roots, and therefore give you back 100% of your chew.
Best of both worlds
If you are a denture wearer, we have good news for you. Here at Dental Implants Hampshire, we can combine the best of both treatments to restore your chew and bite, with implant-retained dentures.
When you choose to have dental implants in Hampshire to hold your dentures in place, you will only need between 4 and 6 implants per jaw to do the job. If you are one of the 85% of denture wearers who do not wear their lower denture because you find it rubs and interferes with your speech, having dental implants in Hampshire to stabilise your lower denture could be a real game changer.
Another plus with using Dental Implants Hampshire is that we offer a service we call Same Day Teeth. You arrive in the morning to have implant surgery and while you are relaxing afterwards, your new crowns are being made in our on-site laboratory. We fit your new crowns late in the afternoon and you leave us ready to eat out that night if you want to.